004 | Inspiration and words of comfort to help reframe the global pandemic caused by COVID19.
"It is hard to listen when you are so busy all the time, hustling to uphold the comforts and conveniences that scaffold your lives."

Hello,
Here is another Beginner's Mind email to occupy your inbox amidst all your other emails you've probably been getting. If you've opened this, thank you.
You've probably been thinking all month about how I'm doing. Well, I'm doing okay.
---
I promise I won't make this newsletter focus too much on COVID-19 but I feel it is mandatory to share some perspective.
I'd like to share two interesting posts:
A poem called Stop by Kristin Flyntz —
This poem was originally shared with me last week during a morning class, and I found it reassuring to recognize that during this time of crisis, the opportunity to recognize impermanence, accept it, and remain still, is possibly one of our most effective ways to cope. This thing has in a way provided us a mandated time to sit still, and to invite our inner selves to come forth and occupy our spaces. Perhaps this stillness has revealed that we are anxious people or that we are impatient or that we are lonely or that we are angry. It's nice that we're all finally stopping, taking inventory of what's important, and taking action to help others if we can.
It is hard to listen when you are so busy all the time, hustling to uphold the comforts and conveniences that scaffold your lives.
At the same time, I'd like to recognize all the heroes that haven't been able to stop because they are on the frontlines fighting this monster and risking their lives. I salute you.
---
A letter to COVID-19 Dear Corona Virus. Don't Be Surprised If You Fail.' —
I keep hearing how this virus is a novel virus, meaning that it is new and we do not know how to treat it. However, economy aside, are the consequences really that novel? In this article by The New York Times, as of right now, coronavirus is behind cancer and heart disease, America's two major killers. In Dear Corona Virus. Don't Be Surprised If You Fail. Kenyan poet, Sir-Lucky Samuel Mang'era, openly tells the virus:
We are more likely to die of a cholera attack than to be killed by you bro. For us, everday is a run escape from death. We are the walking dead. Death is part of our lives, the shadow that lingers over us from the time the umbilical cord is cut and buried behind the house, to the time we fundraise for expensive arrangements to bury a no longer useful block of dead meat.
---
These are two contrasting perspectives on opposite sides of the spectrum. I think they're both important to acknowledge. Originally I had written this big elaborate thing about my perspective on this whole thing but you know what, there's no need. Right now, my opinion is as valuable as a scrap of paper.
---
Projects
Public Meditation
Amidst the global epidemic that is COVID-19, many organization and companies are taking it upon themselves to supply consumers with a plethora of products (virtual parties, museum tours, fitness classes, etcetera.) to keep us distracted, busy, and consuming. I've created a platform to look inward and use meditation as a catalyst for creativity and contemplation.
Meditation will be available Monday, Wednesday, and Friday, from 5 – 6AM CST. The first half, will consist of silent unguided meditation followed an independent creative exercise (prompt provided).
To attend, you don't need anything to prepare but a comfortable quiet place to sit.
If you'd like an invitation, please respond to this e-mail.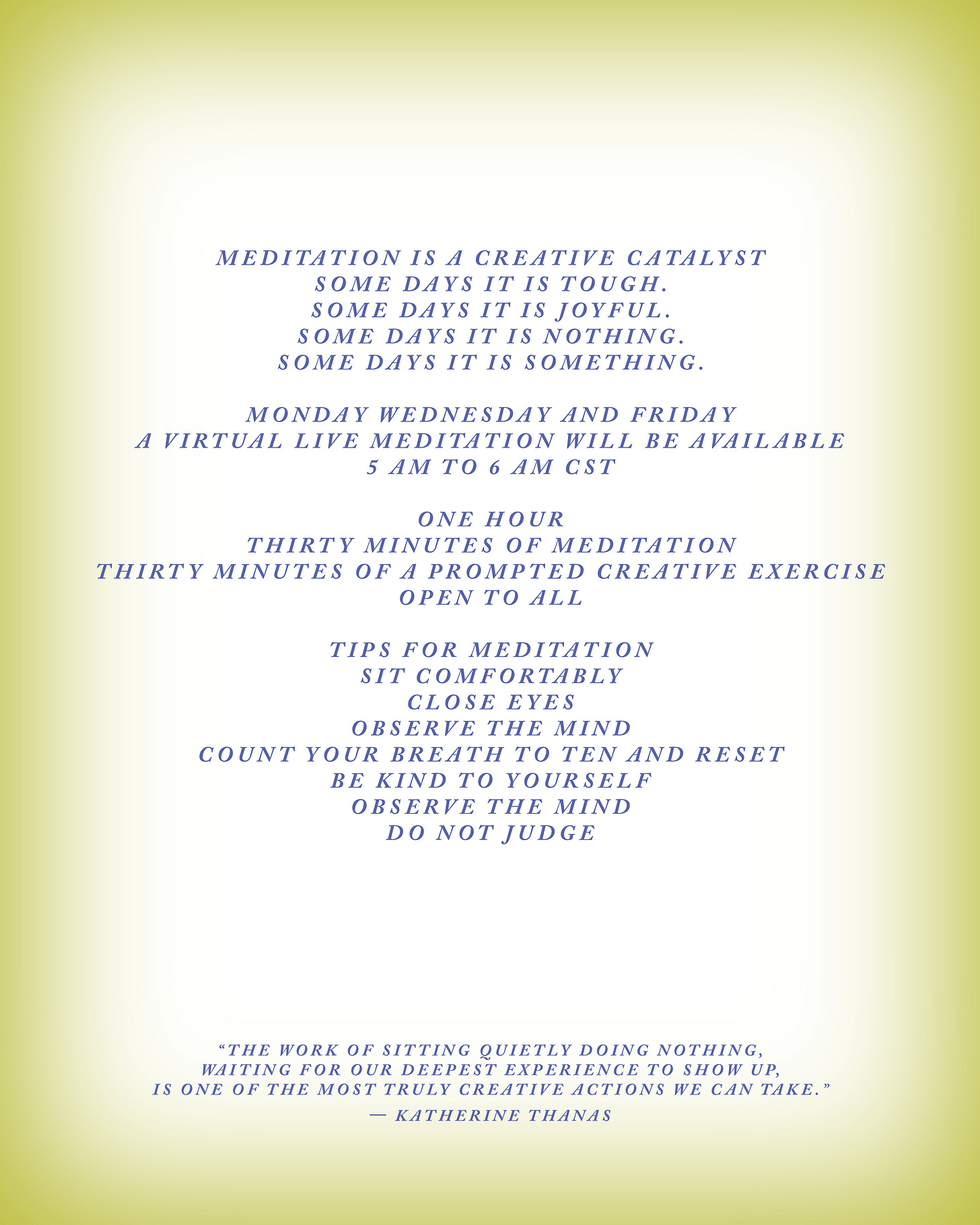 ---
Automatically Sunshine
Here's the artwork for Automatically Sunshine, my latest music composition, available on streaming services in the next couple of weeks.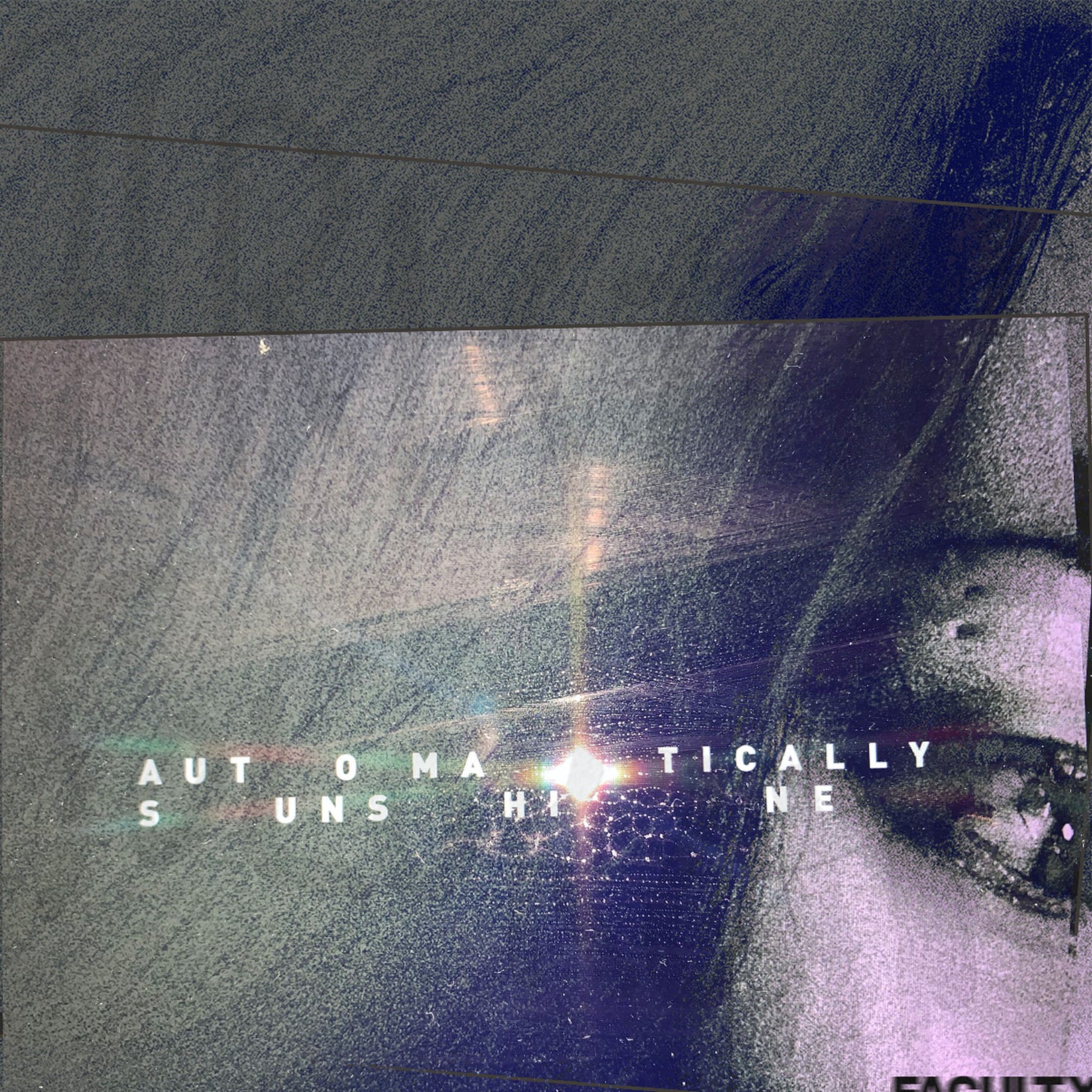 ---
Photographs
I didn't do much photography in March. I bought a new mount for my camera, so I can use old analog Pentax lenses on my mirrorless Fuji. Originally, I was planning to shoot headshots of some of my friends but that won't be happening.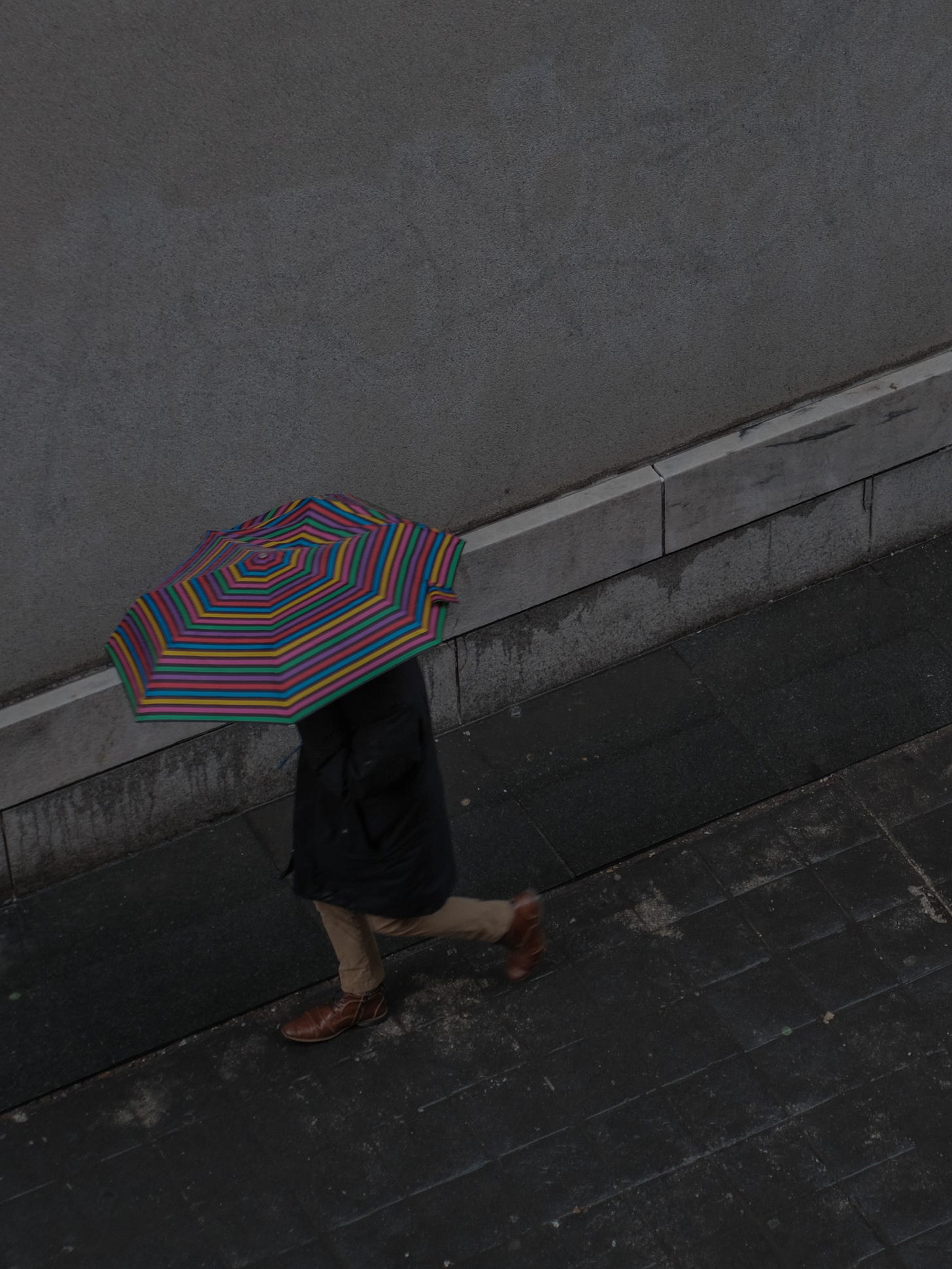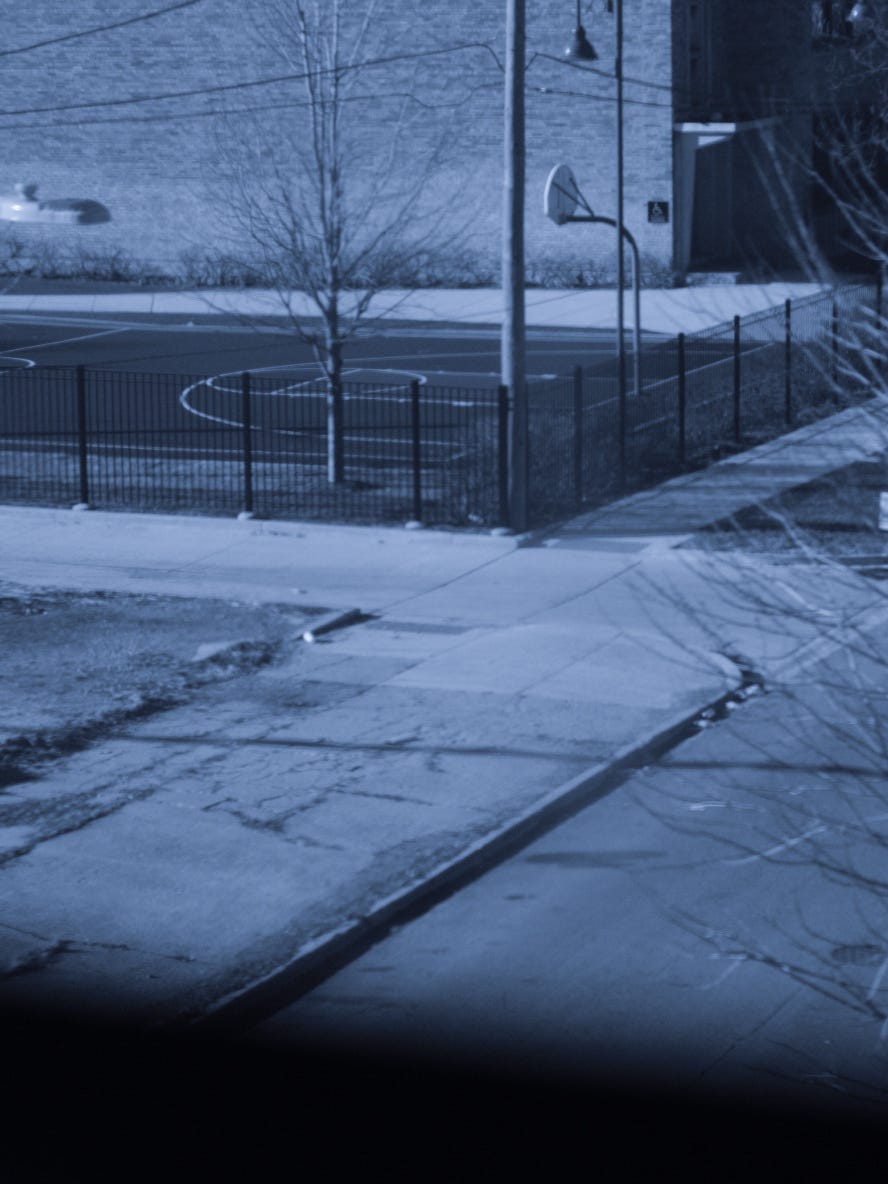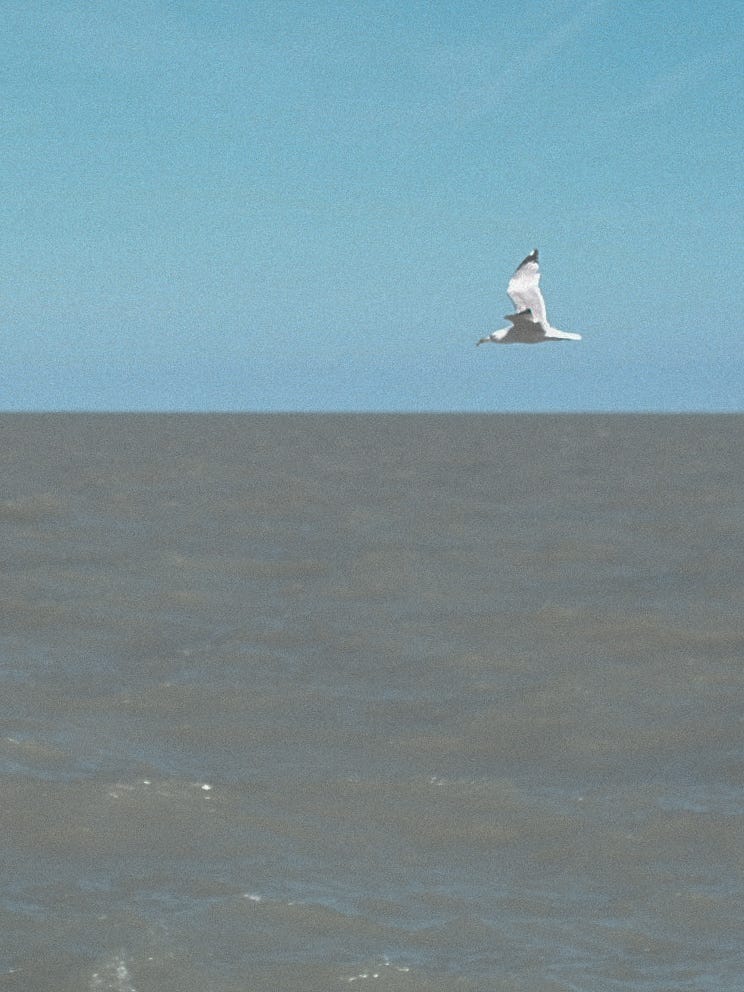 ---
Music of the Month
I've been revisiting music from the past. The band Irish band, Pony Club's album Home Truths (2002) is a soundtrack to family problems, domestic trauma, unhinged relationships, loneliness, despair, isolation, depression, anxiety, panic attacks, etcetera, you know, all that good stuff that we binge watch on TV. Each song becomes a short film if you listen with your eyes closed. Great great album.
---
Alexis Ffrench is amongst my favorite contemporary musicians, alongside Sophie Hutchings, Olga Scheps, and Khatia Buniatishvili. His latest album Dreamland is is a collection of songs that induce a state of tranquility and rest. It's an essential listen to play in the background as we face the state of the world and put in the effort to keep moving forward. Check out his new album Dreamland (2020) on Spotify.
---
Brothers Roger and Brian Eno, have released a new album, Mixing Colors, that will also be a sonic amulet to get you through this period of isolation. This is their second major collaboration, since Apollo (1983), which is my favorite album of all time. Their musical process is quite interesting. They discuss their collaboration in this interview with NPR. Roger And Brian Eno Reveal How They Made Their Tranquil New Album Together.
Check our their new album on Spotify, Mixing Colors (2020).
---
Okay, that's all I have to say. Thank you. As always, please reach out if you have any questions or want to talk.